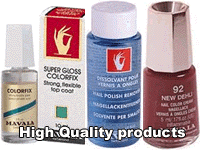 Nail Polish
Exceptional nail polish that is able to "flow" on, blended to last a long time.

Top Coat
Strong, flexible top coat reinforced with acryl that adds brilliance and protects nail polish.

Directions:

After the final coat of nail color has dried, apply Colorfix over entire nail and under nail tip where enamel is most likely to chip. A coat of Colorfix every couple of days will freshen and give continuous glaze to your manicure.

Nail Polish Remover
An effective formula that removes nail polish quickly and thoroughly.

Directions:

Moisten cotton pad and apply to surface. Hold in place for a few seconds and then wipe off nail polish in one stroke.