"Since 1973, Singapore Zoo has been known for having among the most beautiful wildlife park settings in the world, where animals roam freely in open and naturalistic habitats.
Nine-time winner of the coveted Best Leisure Attraction Experience award by the Singapore Tourism Board, our 26-hectare wildlife park is nestled within the lush Mandai rainforest that stretches into the magnificent Upper Seletar Reservoir. More than 2,800 animals representing over 300 species of mammals, birds and reptiles call Singapore Zoo home.
Singapore Zoo is also a Learning Zoo - where our guest experience involves understanding the animals at a deeper level through well-designed and interactive educational displays. As a result of our extensive wildlife research programmes and collaborative efforts with the global community, the Singapore Zoo has been taking important strides in furthering ourkey goal to preserve biodiversity. Guided by the wildlife conservation policy, our successful animal breeding programme continues to see numerous significant births of endangered animals year after year.
Wildlife conservation and the preservation of biodiversity are goals we have made ours – to take with us as we create a world where more will be inspired to learn, appreciate and respect the animals, with whom we share our planet."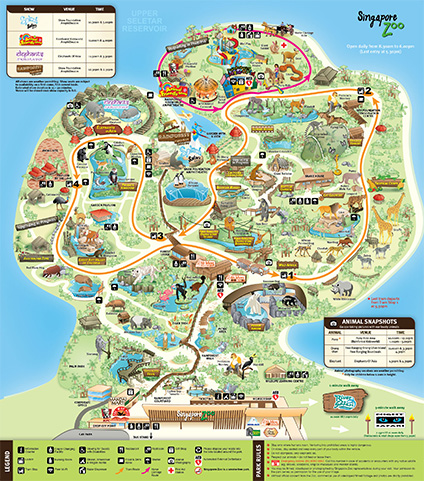 See more at the official website.